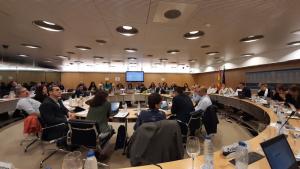 Plan Bleu as member of the Interreg MED projects " Biodiversity Protection Community", " Sustainable Tourism Community" and " Blue Growth Community" projects participated in the " PANORAMED working session and Gathering with Strategic Projects" and in the "Interreg MED coordination mechanism meeting" which were held in Madrid on February 19- 20th, 2020.
The meetings brought 60 participants together to review the next steps of PANORAMED and what is expected as coordination from the Interreg MED Community.
The objective of the first day was to present the state of play of the PANORAMED Dialogues, which will take place in Athens in late April. The morning session was devoted to the presentation and sharing of the policy related work developed in its three main areas: Coastal and Maritime Tourism, Maritime Surveillance and Innovation. The afternoon session was dedicated to the relations between PANORAMED and the on-going Strategic Projects: Best MED, SmartMED, OSMoSIS et SHAREMED.
The "Interreg MED coordination mechanism day" aimed to set-up coordination mechanisms between the Horizontal projects and PANORAMED and its Strategic Projects but also to present the concept of the Med Conference to be held in Paris early November 2020 and to address the 2020 roadmap. In the afternoon, participants took part in two working groups (mainstreaming and communication) with the aim of identifying the most important results, the obstacles identified and ideas for improving the next steps in the mainstreaming and communication processes.