On September 29 and 30, 2022, the final conference of the Blue Growth Community, of which Plan bleu is a partner, will take place in Lisbon, in a hybrid format. It will be an opportunity to showcase the work of the community for a sustainable development of the Blue Economy in the Mediterranean.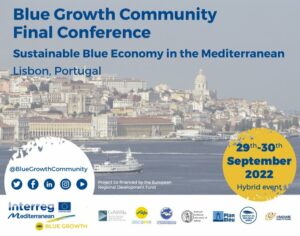 What is the Blue Growth Community?
Funded by the EU's Interreg MED program, the blue growth community has been running for six years in the Euro-Mediterranean region and aims to:
Assist and coordinate MED Blue Growth projects in their

capitalization activities

with the aim of promoting the

transfer of their results

and "

tools

" in policymaking and their uptake by

multi-level stakeholders

(e.g. regions, SMEs, researchers, etc.)

To foster sustainable development of the blue economy through

entrepreneurship

and mainly

SMEs

.
In order to mobilize this broad community, the BGC has organisedstakeholder events, trainings, peer reviews, policy recommendations papersand supported the transfer and capitalization of the most innovative tools developed by the MED Blue Growth Projects.
Why attend this event?
For 6 years, the Community has laid the foundation for unique cooperation opportunities to foster a new paradigm for sustainable Blue Growth.
During this conference, you will have the opportunity to discover concrete tools developed by the project community. You will also have the opportunity to meet all the partners and members of the Blue Growth Community.
Finally, this hybrid event will allow you to participate remotely.. Otherwise, we will have the honor to welcome you physically in Lisbon.
Highlights of the event
During the conference, the Blue Growth Community Project's will present the main achievements in capitalization and expose the main results that have been capitalized by the Blue Growth Partnership:
the crowdfunding transfer action (developed by BLUE CROWDFUNDING) to ASCAME,

the cluster building methodology (developed by PELAGOS and PROteuS) at the University of Montenegro,

the adoption of the results on the circular Blue Economy (developed by BLUEfasma) by the Portuguese Regions.

Capitalization reports on recommendations and sustainable practices for a sustainable development of blue economy sectors (incl. blue circular economy, marine renewable energy, cruise and recreation boating sector)
The Blue Growth Final Conference will also be an opportunity to consider future cooperation opportunities for the new EURO-MED Programme, building on recommendations based on lessons learned by the Blue Growth Community.
For further information:
To learn more about the event:here
The agenda of the event: here
To learn more about the Blue Growth project and Community: here