Today, Tuesday 14 June 2022, the 3rd and final Blue Growth Community Annual Assembly and Advisory Board meeting took place in Kotor, Montenegro.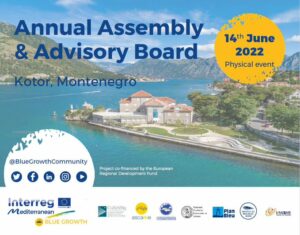 This assembly aims to bring the blue growth community together in a physical meeting and to have an in-depth discussion on the results of the project.
Eloïse Faure, Project Manager at Plan Bleu is present as well as Céline Dubreuil, Director of Programmes who represents Plan Bleu, partner of the Interreg MED project of the Blue Growth Community.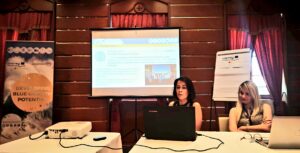 A focus was made on the 3 key capitalisation reports developed by the Blue Growth Community, two of which are steered by Plan Bleu:
– Guidelines for the sustainability of cruising and recreational boating in the Mediterranean
– The report on the sustainable development of marine renewable energy in the Mediterranean
– And a third one on the circular blue economy led by MedWaves and Conference of Peripheral Maritime Regions (CPMR) with the support of Plan Bleu.