Three cooperative projects from the Mediterranean region highlighted the importance of the circular blue economy in addressing cross-border environmental and social challenges related to the maritime sectors by organising a hybrid event in Barcelona.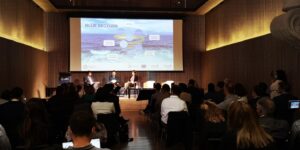 On 10 May 2022, the SwitchMed programme, the Interreg MED Blue Growth Community with Plan Bleu as partner, and the Interreg MED BLUEfasma modular project co-organised a hybrid capitalisation event entitled "Fostering the circular blue economy in the Mediterranean" in Barcelona.
The event was the opportunity to launch a reporton the integration of the circular economy in the blue economy sectors in the Mediterranean.
The conference was co-developed by MedWaves (formerly SCP/RAC) and theConference of Peripheral Maritime Regions (CPMR), with the support of Plan Bleu,within the framework of the activities of the above mentioned projects.
In addition, the agenda included two plenary sessions that brought together stakeholders to reflect on the opportunities of the blue circular economy in the field of fisheries and aquaculture on the one hand, and marine tourism and port activities on the other.
The opening of the event was attended by representatives of the main Euro-Mediterranean institutions, including the Generalitat de Catalunya, the United Nations Environment Programme Mediterranean Action Plan (UNEP/MAP),Union for the Mediterranean, BLUEMED initativeand the DG MARE.
Céline Dubreuil-Degortes, Plan Bleu's Programme Director, took part in the closing session of the conference "Promoting the circular blue economy in the Mediterranean".
Watch her speech and the full conferencehere
For more information, click here