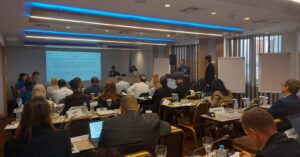 The GEF/UNEP MedProgramme's Annual Stocktaking Meeting was held on 2-3 November 2022 in Athens, Greece. The MedProgramme focuses on:
Reducing major transboundary environmental stresses in coastal areas

Strengthening climate resilience and water security to improve the health and livelihoods of coastal populations

Promoting gender equality.
Presided by Leticia Carvalho, Head of the Marine and Freshwater Branch of the United Nations Environment Programme (Nairobi), the stocktaking meeting convened representatives of the program's beneficiary countries: Albania, Algeria, Bosnia and Herzegovina, Egypt, Lebanon, Libya, Montenegro, Morocco, Tunisia and Türkiye, as well as the European Investment Bank, the European Bank for Reconstruction and Development, the GEF MedProgramme Task Managers, and the the Executing Partners of the MedProgramme's 8 Child Projects.
Lina Tode, Antoine Lafitte and Michael Karner represented Plan Bleu to promote their ongoing work concerning:
Med 2050

's

contributions to the MedProgramme's Transboundary Diagnostic Analysis of marine and terrestrial pollution sources in the Mediterranean

The development of a set of indicators to monitor coastal governance and a conceptual framework for coastal observation in the region for the Mediterranean

The implementation of the

Climagine

participatory method to support the development of two Coastal Plans in Morocco and Montenegro

Coastal adaptation to climate change in the Mediterranean
To learn more