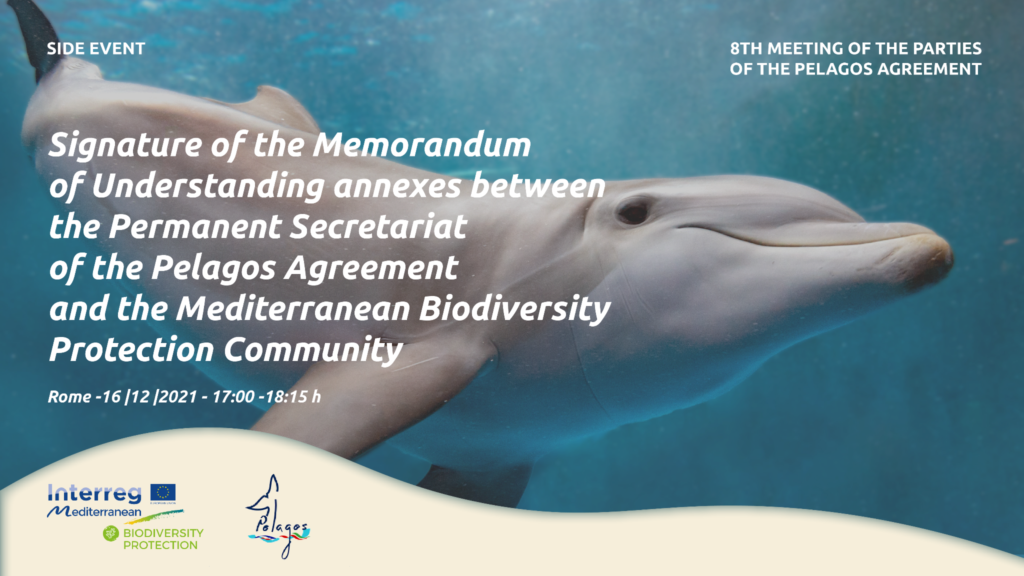 In the framework of the Pelagos Sanctuary Management and Action Plan (2022-2027) to be adopted by the Pelagos Contracting Parties on 16 December 2021, the Permanent Secretariat of the Pelagos Agreement (Pelagos Secretariat) and the Mediterranean Biodiversity Protection Community (MBPC), co-funded by the Interreg Mediterranean Programme are entering a Memorandum of Understanding (MoU) which has the following goals :
To facilitate the transfer of expertise, tools and knowledge among the Parties;

To exchange information and data related to biodiversity and pressures in Pelagos area;

Development of joint capacity building activities;

Development of joint research activities;

Development of a scientific-technical pool of experts to support the implementation of the Pelagos Management plan;

Organisation of workshops, site visits and meetings.
To achieve these objectives, a regular dialogue will be set up between the Pelagos Secretariat and the MBPC with the support of the Interreg Med Joint Secretariat and the execution of relevant actions to implement activities with all partners will be key.
The individual thematic biodiversity protection projects within the MBPC will sign separate written agreements or annexes to this MoU which will contain the specific cooperation actions to be carried out.
Plan Bleu, member of the MBPC, wishes to strengthen its collaboration with the Pelagos secretariat, to ensure full visibility of Pelagos initiatives and thus inspire the Mediterranean Action Plan, in particular through the enhancement of data and publications of Pelagos in the Mediterranean Observatory for Sustainable Development.
Plan Bleu will also contribute to building capacities of the Pelagos Secretariat and its contracting parties about sustainable practices to support the implementation of the Pelagos Management Plan regarding the mitigation of environmental impact from cruise, recreational boating, tourism and marine renewable energies sectors.
Visit our MBPC site and discover our actions for the Mediterranean !