From 15 to 17 June 2022, Plan Bleu participated to the "Adaptation of coasts to climate change" workshop in Marseille and Hyères, organised by the Conservatoire du Littoral in the framework of the French Presidency of the European Union 2022.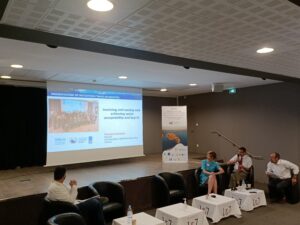 Our Director François Guerquin gave a presentation on participatory approaches to governance in terms of coastal adaptation, citing in particular the possibilities for collaboration in terms of data offered by the
Observatoire du Plan Bleu
MED2050
and Climagine projects (
FEM MedProgramme
), and the special Report of
MedECC
on coastal risks (to be published in 2022).
Our colleagues from
PAP/RAC
(Croatia) also presented their work on the ICZM Protocol and climate change adaptation, looking back at the example of the development of the Coastal Plan in Šibenik-Knin County (Croatia) in 2015. They also had the opportunity to meet our team in the Plan Bleu office.