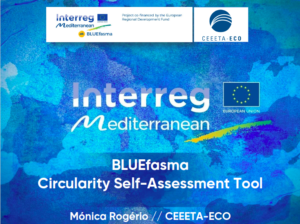 As part of its Programme on the Blue Economy in the framework of the Barcelona Convention, Plan Bleu organized two webinars on Sustainable Aquaculture in the Mediterranean Region in collaboration with the Interreg Med Blue Growth Community (BGC), the Mediterranean Biodiversity Protection Community (MBPC) and key partners of the sector such as FAO/GFCM, WestMED and IUCN. Plan Bleu is a partner of Blue Growth Community project as lead of the work package on capitalisation.
This series of webinars aims at identifying and exploring innovative solutions to address the main sustainability challenges of the Mediterranean aquaculture sector, and how such solutions could be replicated in other territories, programmes and projects. The final objective is the development of a roadmap for a sustainable transition in Mediterranean aquaculture based on innovative approaches, methods, tools and practices.
On 16 November 2020, Plan Bleu hosted its second webinar focusing on sustainable aquaculture. On this occasion, Mónica Rogério, Communication & Project Manager at CEEETA-eco, presented the BLUEfasma modular project and its Circularity Self-Assessment Tool.. The tool aims to tackle the lack of data on the circularity level of Mediterranean SMEs/enterprises related to fishing/aquaculture and their willingness to invest in blue Circular Economy (CE). Acting as a decision support tool and capitalising on the CIRTOINNO project(Interreg South Baltic), the tool will be addressed to i) stakeholders that have a direct interest and will be involved in the activities ii) stakeholders interested in learning about activities' results. Two value chains are concerned:
Aquaculture for fish & shellfish
Aquaculture for algae
The project will be testing and evaluating the tool in 11 different insular/island territories through a five-step process. Training sessions for SMEs, webinars and face-to-face (when possible) contacts, testing the CE Index as well as evaluation of testing through a survey will be organized. In a final report, the Self-Assessment Tool will be looking to indicate SME readiness and willingness to invest in CE, providing 8 detailed sections on the participating company. It will also give them a set of recommendations for moving towards Circular Economy. Recommendations will range from company building facilities, packaging, farming nutrition, suppliers to discarded material/goods & more.
Finally, this tool is easily replicable as it is online-based but only available in English for now. It will play a key role to increase the sustainability of the aquaculture sector.
As a result of both webinars, a Result Matrix was developed. This Matrix gathers innovative approaches, methods and tools to address the main sustainability challenges identified for the aquaculture sector in the Mediterranean. To take this work further, a Drafting Working Group is currently underway with partners and experts to develop the roadmap in 2021. A meeting took place on 13 January 2021.
For further information, please contact Céline Dubreuil atcdubreuil@planbleu.org