The city of Marseille hosted the Euromaritime Exhibition, the biennial meeting of the sea industries and blue growth, from 4 to 6 February 2020, at Parc Chanot. A crossroads for meetings and exchanges between professionals from different maritime sectors and the entire Euro-Mediterranean basin, this exhibition aims to present the challenges of the maritime world of today and tomorrow, facing the challenges and expectations of the planet ocean.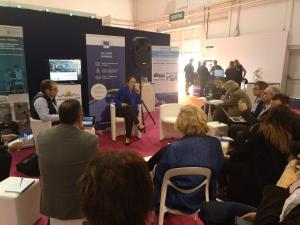 The exhibition was punctuated by a conference program.
Plan Bleu was present at Espace MerVeille Energie on stand n°L08.
To find out more about the blue economy in the Mediterranean and the activities carried out by Plan Bleu on this theme, consult our flyer: "Blue economy: a new frontier for growth and a healthy Mediterranean"
More information: https://www.euromaritime.fr/