In the framework of the Interreg Med Mediterranean Biodiversity Protection Community (MBPC) project, Plan Bleu in collaboration with ETC-UMA, co-organised the capitalisation event entitled: "A Green Deal for Mediterranean wetlands: building resilience through collaborative management" which took place on Friday 3 June.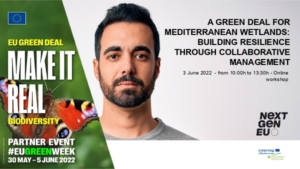 In the framework of the EU Green Week 2022, this event gathered around 50 participants such as international experts, EU decision makers and the regional biodiversity conservation community. The aim of this online event was to take stock of the latest scientific and policy developments concerning Mediterranean wetlands, discussing ideas and presenting urgent actions to restore these crucial ecosystems for our future.
During the eventthe Mapping and assessment of the state of wetland ecosystems: A Mediterranean perspectivewas presented as a key document to foster and prioritise the restoration efforts in the Mediterranean.
This webinar was part of the MBPC's activities on integrated ecosystem monitoring and management, focusing on wetlands and land-sea interactions at Mediterranean, European and national levels.
If you wish to watch again the event, the recording is available here
The presentations of the different speakers are available here
For more information on the MBPC and our other projects please visit our Projects page. You can also contact [email protected]