Water in the Mediterranean
Given growing pressures on water resources in the Mediterranean, an integrated resources management on the basis of water demand management is absolutely vital.
Water resources unevenly distributed and growing pressures
France, Italy, and Turkey receive half the region's total rainfall; the southern countries along the North African coast enjoy only one-tenth. In some countries like Egypt, Israel or Malta, water withdrawals already near or exceed the average annual volume of renewable natural resources (index over 80%).
Water pressures are expected to worsen with population growth to the South and East, the development of tourism, indutry and irrigated land, in addition to climate change impacts. According to existing projections and literature, "water-poor" Mediterranean populations, below 1000 m3 /inhab/yr, are forecast to increase from 180 millions people today to over 250 millions within 20 years.
Alternatives : Managing water demand and not only the supply
With rapid population growth, environmental degradation and climate change, it is no longer possible to satisfy all water demand by increasing the supply, which was the traditional water policy response in the Mediterranean.
In response to this situation, water-demand management can lead to major progress by limiting losses and inappropriate use (waste , leaks during distribution or transport) and by ensuring more efficient use of the resource. There is considerable room for progress since improved water demand management would make it possible to save 25% of water demand, irrigated agriculture representing nearly 65% of total water potential savings.
2013-2015 "Water" programming of Plan Bleu
Activities aim to support the implementation of the Mediterranean Strategy for Sustainable Development (MSSD) and more specifically, to help Mediterranean countries ensure water security in the face of overall changes. They are structured around four strategic goals: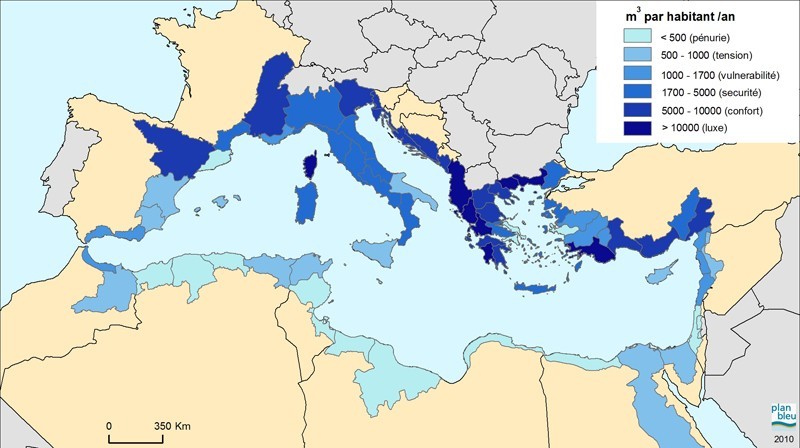 Natural renewable water resources per capita in the Main Mediterranean watersheds