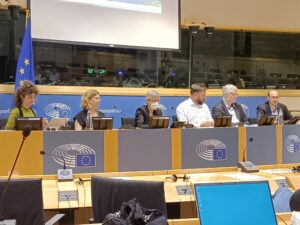 On October 26th, 2022, Horizon 2020 project WaterLANDSand Interreg North-West Europe project Care-Peat hosted a joint event in Brussels to discuss peatland policy recommendations developed with stakeholders and to advocate for stronger peatland targets in the proposal for the new EU Nature Restoration Law.
The event, attended by MEPs, Directorate-Generals, and other policy stakeholders, called for a range of new measures, including the significant increase of peatland restoration targets for 2050, and the mandatory monitoring of restoration.
While the event organisers welcome the proposed Nature Restoration Law as a positive step, including the binding targets for EU countries to restore peatland by 2030, 2040 and 2050, and the recognition of alternative modes of use for rewetted land, stronger peatland targets were advocated for, including:
The restoration of peatland must include rewetting.

Significant improvement of peatland restoration targets for 2050 in line with the Paris Agreement.

Target all non-residential land uses of drained peatland for restoration.

Mandatory monitoring of peatland restoration.
"For Peat's Sake: Strengthening Peatlands Targets in the EU Nature Restoration Law" included a technical peatland seminar followed by a high-level policy event hosted by MEP Jutta Paulus. It emphasised the crucial role of peatlands for biodiversity, carbon storage, water cycles and climate resilience throughout Europe under the Nature Restoration Law.
The event showcased how the WaterLANDS and Care-Peat projects will create a legacy for the upscaling of wetland restoration by contributing to European policy and the implementation of the Nature Restoration Law, while emphasising the necessity of improved targets for peatland restoration.
Plan Bleu is involved in this advocacy work with other partners of the Mediterranean area such as Tour du Valat for a better consideration of the Mediterranean wetlands to be restored under the Nature Restoration Law proposal.
To learn more about the WaterLANDS project and our activities, click here.