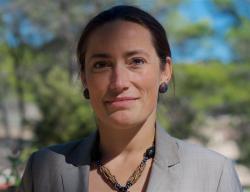 "Ingénieur en chef des ponts, des eaux et des forêts", with a background in agricultural & rural development economics and environmental policies, Elen Lemaitre-Curri was stationed in Burkina Faso from 1998 to 2000 working on land policies for the French Ministry of Foreign Affairs; she then worked for FAO Investment Center in Roma from 2000 to 2006 as an economist of the FAO joint programme, in Africa, Asia and Latin America.
In 2006, she joined the Commissioner-General for Sustainable Development (CGDD) within the French Ministry in charge of the environment, first as deputy head of unit for environmental economics and financial instruments, where she is in charge from 2007 to 2009 of such themes as land policies, urbanism and environment, then as head of unit for global public goods, on climate, biodiversity, forests and oceans economics from 2009 to 2014.
Thereafter she undertook doctoral training on public policies, before joining Plan Bleu in September 2017.
"The excellence of her career promises a bright future for our organization!", rejoices Thierry Lavoux, Plan Bleu's Chairman.