PANACeA's knowledge sharing event: "Bridging the Science-Practice-Policy Interface in Biodiversity Protection"
On October 23rd and 24th 2017, an open event will gather in Barcelona the members of PANACeA and the 9 modular projects of the MED Community on Biodiversity Protection (ACT4LITTER, AMAre, CONFISH, ECOSUSTAIN, FishMPABlue2, MEDSEALITTER, MPA-ADAPT, POSBEMED, WETNET), as well as relevant stakeholders of the Mediterranean Region involved in biodiversity protection. Plan Bleu, in charge of Community Building and Capitalization components is one ot the six institutions organising the event.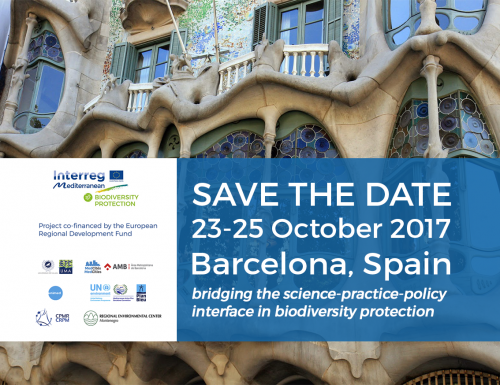 The event will strive to foster a constructive, productive dialogue between researchers, practitioners and policy making officials and to issue a set of recommendations to further strengthen the Science-Practice-Policy Making Interface, in support of enhanced management and conservation of biodiversity and ecosystems in Protected Areas.
The dialogue will be articulated around 3 cross-cutting issues that have been specifically identified as relevant to the Community:
Addressing biodiversity protection challenges in Protected Areas, with a focus on climate change and marine litter.
Sustainable resource management, with a focus on fisheries.
Integrated ecosystem monitoring.
Plan Bleu is in charge of the organization and coordination of the working group on integrated ecosystem monitoring, which has been developed in the framework of the event, and which will last until the end of the project."
More information about the event of October 23rd and 24th 2017....
This event will be followed by a closed Community Building Workshop for the Biodiversity Protection Modular projects together with the PANACeA partnership to draw on conclusions achieved in the Knowledge Sharing Event and pave the roadmap to future activities.
More information about the event of October 25th 2017...

Learn more about PANACeA Project:
Factsheet on PANACeA project
Factsheet on Modular Projects
Factsheet on PANACeA Knowledge Platform
Info : To access Participants area, please connect you in the Private Access