Med Biodiversity Protection Community at MARLICE 2019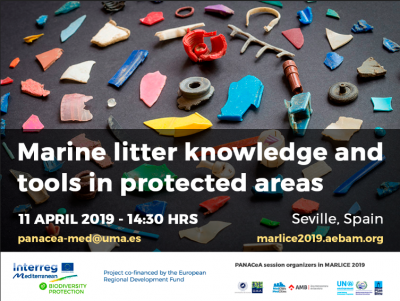 The Med Biodiversity Protection Community featured by PANACeA was present during MARLICE 2019, the International forum on marine litter and circular economy, that took place in Seville, Spain, from 10 to 12 April 2019.
A Med Biodiversity Protection Community open session was held on 11 April (from 14:30 to 17:30) to present the common work and results of its initiatives on marine litter .
The session stressed the relevance of an ecosystem-based approach to policy development and summarised the main findings and achievements of the Interreg MED Biodiversity Protection Community, featured by PANACeA, regarding marine litter monitoring and management, with a focus on impacts on biodiversity and Marine Protected Areas (MPAs). It also provided an opportunity to put those in a wider context. The gathering highlighted remaining gaps and joint recommendations for the forward-looking actions that are needed. The tools developed and/or enhanced by the Community were tested through a hands-on exercise to share their potential, obtain feedback on improvements and expand their use.
Plastic Busters MPAs, one of the Modular Projects belonging to the Interreg MED Biodiversity Protection Community, held an Info session in the morning the same day. Plastic Busters MPAs aims to contribute to maintaining biodiversity and preserving natural ecosystems in pelagic and coastal protected areas by consolidating Mediterranean efforts to address marine litter.
More information: https://biodiversity-protection.interreg-med.eu/media-calendar/news/detail/actualites/the-med-biodiversity-protection-community-marlice-2019/