Launch seminar of Environment MediaLab project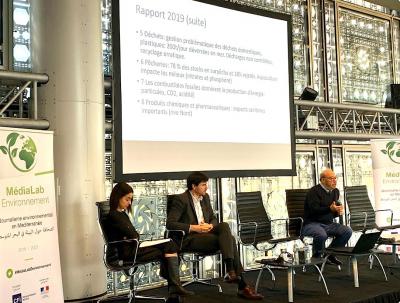 Plan Bleu participated Thursday, October 24, 2019 in the launching seminar of the Environment MediaLab project, supported by the CFI Media Development, with the support of the Ministry of Europe and Foreign Affairs. This project aims to encourage the integration of environmental issues in the work produced by journalists, relying on the expertise of local actors from the three shores of the Mediterranean basin.
Thierry Lavoux, Chairman of Plan Bleu, presented the Plan Bleu's missions, as well as the Mediterranean Action Plan and the objectives of the Mediterranean Strategy for Sustainable Development. He supported the real need to work hand in hand with the Mediterranean media at different scales, so that the key messages conveyed by the work of Plan Bleu are disseminated effectively.
Environment MediaLab project strives to diversify the bridges between institutional actors, journalists, scientific and local actors, and paves the way for fruitful collaborations as early as 2020.