Kick off meeting of the thematic project "MPA networks"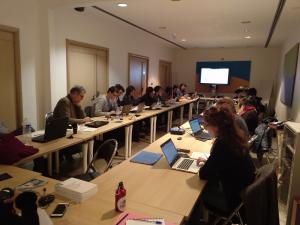 Plan Bleu, as coordinator of Work Package 5 dedicated to the Capitalization of the Biodiversity Protection Community project, participated in the kick off meeting of the thematic project "MPA networks" whose objective is to contribute to the effective management of Mediterranean Marine Protected Areas (MPA) by proposing sustainable solutions to the challenges that require a supra-MPA approach: effective management, small scale fisheries management, conservation of mobile species and sustainable financing.
Coordinated by MedPAN, this thematic project (November 2019 - April 2022) is part of the "Biodiversity Community" and brings together 10 Mediterranean partners from 7 countries: Albania, Croatia, Greece, Italy, Slovenia, Spain and France. The project will support the testing and adaptation of tools and recommendations from previous projects to improve marine conservation at 9 selected pilot sites and facilitate the transfer of lessons learned and good practices at different geographical scales (national, supra-national, Mediterranean).
The meeting brought together 25 participants (partners and associated partners of the project) to review the different activities of the project.
It was reminded the importance of biodiversity conservation, of strengthening networks and of capitalizating existing knowledge and methods of MPA management that is also important to transfer to support decision makers at national and regional levels.