Simplified Peer Review Mechanism (SIMPEER), Mission to Morocco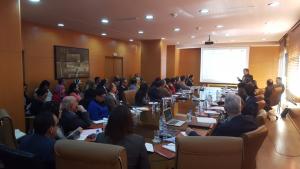 The project team of the Simplified Peer Review Mechanism (SIMPEER) (Wafa Essahli, Spyros Kouvelis and Julien Le Tellier) carried out a mission to Rabat, Morocco, on 7-8 February 2017, organized in cooperation with the Ministry of the Environment in Morocco.
On 7 February, a three-hour plenary meeting was organized by the Ministry of the Environment. Chaired by Ms Rajae Chafil, Director of Observation, Studies and Planning, this interactive meeting brought together some fifty participants representing the various ministerial departments of the Moroccan government, as well as national stakeholders in the field of the environment and sustainable development. The high number of participants at this meeting reflects the interest of national decision-makers and stakeholders for the National Strategy on Sustainable Development 2016-2030 (NSSD 2016-2030) and regional cooperation issues through the SIMPEER process. This process is being implemented to facilitate dialogue and exchange of experiences between Mediterranean countries and to facilitate ownership of the Mediterranean Strategy for Sustainable Development 2016-2025 (MSSD 2016-2025).
This plenary meeting was continued by face-tà-face interviews with the Secretaries-General of several ministries (Tourism, Fisheries and Maritime Affairs, High Commission for Water and Forests, Handicrafts, Civil Service and Administration Reform) and the Economic and Social Council for the Environment. These interviews made it possible to deepen the analysis and synthesis of processes and structures related to sustainable development in Morocco, while putting into perspective the strategies and sectoral action plans with the NSSD 2016-2030.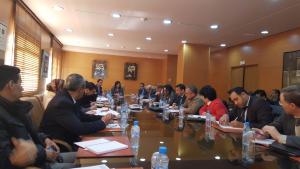 In accordance with the innovative and experimental methodology tested in the context of the SIMPEER Activity, the exercises of consultation conducted during this mission focused on five key dimensions of the NSSD that are put in perspective with the MSSD 2016-2025 and the overall Agenda 2030 and its Sustainable Development Goals (SDGs). The results of this stakeholder consultation will enrich the national report prepared on the basis of a synthesis of the national legislative, regulatory and strategic documents relating to sustainable development. This national report will be discussed at the Peer Review Meeting on 27 April 2017 in Sophia-Antipolis, France, gathering the three voluntary countries which participate in the pilot test of the SIMPEER process, namely France, Morocco and Montenegro.
This mission made it possible to facilitate ownership by the national actors of the MSSD 2016-2025, which can be considered as a regional declension of the global SGDs.
Plan Bleu would like to take advantage of this news to acknowledge the support and cooperation of its contact points at the Ministry of the Environment for the SIMPEER activity, namely Ms Rajae Chafil (Director of Observation, Studies and Planning), Mr Mohamed Maktit and Ms Hafa (Planning and Studies Department), Mr Rachid Firadi (UNEP/MAP National Focal Point and President of the Mediterranean Commission on Sustainable Development - MCSD) and Ms Nassira Rheyati, as well as Mr Hamid Rhiouani, Plan Bleu National Focal Point.
Download the presentation: Simplified Peer Review Mechanism (SIMPEER)