The implementation of adaptation strategies to climatic and anthropogenic changes is a major challenge for water resources management in the Mediterranean region.
Program on "Water and climate change in the Mediterranean"
In light of increasing water stress risks, many Mediterranean countries need to revisit their water management methods and risk prevention strategies. To assist Mediterranean countries in taking climate change in their water resources and water demands management, Plan Bleu initiated a program spread over four years (2009-2012), which aimed to:
Improve knowledge on the impacts of climate change on water resources and demands by the 2050 horizon ;
Provide prospective scenarios for water resources and demands, including climate change ;
Promote adapatation strategies.
Which adaptation strategies in the Mediterranean region?
Adaptation to climate change is a key issue for water management. It requires technical adjustments but also policy, institutional and behavior changes. The implementation of national adaptation strategies and policies is a recent process. Most countries are primarily at the stage of improving the understanding of water impacts and identifying corresponding adaptation measures (reduce water losses and wastes, crop adaptation, mobilization of unconventional water resources). Few adaptation measures have yet led to significant changes in water use.
Prospective scenarios as a decision support system
In a context of climatic variations and water use changes, integrated water resources management methods have been developed at the regional and catchment scale, in partnership with HydroSciences Montpellier laboratory. These methods identify regions where water use tensions might occur and apprehend the capacity of adaptation strategies to reduce these tensions. A project is underway to apply the method developed locally on catchments of the southern and eastern Mediterranean rims in order to anticipate water shortage and assist decision making in water resources management.
Ecosystems, natural adaptation infrastructures to develop
The role of ecosystems as a natural adaptation infrastructure for the storage and regulation of water transfers is still undervalued. Some data suggests that using nature's capacity to absorb or control climatic variations in urban and rural areas could be a more effective adaptation method than focusing on physical infrastructures.
In this context, Plan Bleu initiated a project in 2013, in partnership with Tour du Valat, to evaluate the services provided by wetlands in terms of climate change adaptation.
More information about the 2014-2016 project: « Economic valuation of the ecosystem services provided by wetlands in terms of climate change adaptation in the Mediterranean [1] »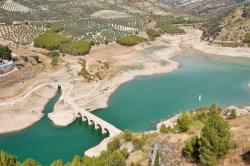 Key figures
A possible 30 to 50% decrease of water resources and a doubling of water withdrawals by the 2050 horizon.

A state of water shortage for 80% of the Mediterranean catchments at the 2050 horizon, according to a business-as-usual scenario.
Potential saving of 30 billion m3 of water per year between now and 2050.

Between 1 and 2% of the world wetlands are in the Mediterranean region.

Since 1900, loss of approximately 50% of the Mediterranean wetlands.
More information
Anticipating water stress in the Mediterranean: a decision support approach for better water resources management [2]
Adapting to climate change in the water sector in the Mediterranean : Situation and prospects [3]
Water and climate change: which adaptation strategy for the Mediterranean? [4]
Climatic and anthropogenic changes over the Mediterranean basin: impacts on water stress and water allocation [5]
Will water demands still be met in the Mediterranean basin by the 2050 horizon? [6]
Partners
RMC Water Agency [7], GWP-Med [8], HydroSciences Montpellier [9], MEDDE [10], Mediterranean Wetland Observatory [11], Tour du Valat [12]
Contact
Dr. Céline Dubreuil [13]