Regional workshop on water demand management in the Mediterranean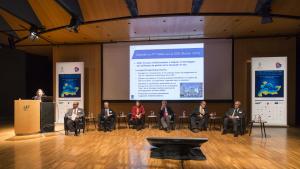 In the framework of the 2nd Mediterranean Water Forum (Murcia, Spain, 25-27th November 2014), Plan Bleu organized the 4th Regional workshop on Water Demand Management (WDM), in partnership with the French Agency for Development (AFD) and the Marseille Centre for Mediterranean Integration (CMI). The overall objective was to support Mediterranean countries in water demand management policies' development and adaptation.
One hundred participants from 12 Mediterranean countries attended this workshop, including representatives of Ministries from Algeria, Egypt, Lebanon, Morocco, Tunisia and Turkey, representatives from basin agencies, from Mediterranean water networks (e.g. CEDARE, EMWIS, GWP-Med, IME, UfM), from water utilities and researchers.
This workshop draws on the previous regional workshops on WDM organized by Plan bleu and its partners. Specific objectives are as follows:
Sharing Knowledge and analysis from the CMI programme on WDM economic approach ;
Disseminating the solutions and good practices on WDM and facilitating regional cooperation in this field;
Identifying these works potential contribution to the implementation of the « Water » component to the Mediterranean Strategy for Sustainable Development (MSSD) and the achievements of the MED1.14 and MED1.25 targets adopted during the 6th World Water Forum;
Promoting the Mediterranean Approach at international scale.
The workshop, among other things, had provided opportunities to present Moroccan and Spanish experiences in terms of WDM implementation and to show progress realized since previous Fora but also barriers faced. These presentations were followed by discussions on tariff issues, on the fate of water saved by localized irrigation systems, on users' role and water quality, testifying to the great interest of participants for sharing their respective WDM experience.
The synthesis report realized on the implementation of WDM economic instruments in the Mediterranean was also made public (soon available in English).
Lastly, a session presented latest work carried out by Water Think Tank, which Plan Bleu is a member, on water demand management at territory level.
A synthesis of this workshop, conveyed during the 2nd Mediterranean Water Forum, highlighted the usefulness of economic approach in terms of WDM, existing barriers to the implementation of WDM economic instruments, the mixed impact on saving water in the Mediterranean despite of great potential especially in irrigation sector, while recalling positive impacts of WDM such as mobilization of financial resources, contribution to cost recovery for water and sanitation services, improvement of water efficiency for irrigation and of agricultural added value.
Work will now continue with special emphasis on choices of water allocation between different uses and improvement of groundwater management.

Presentations
Water Demand Management: From Zaragoza to Murcia, Hugues Ravenel
Water demand management: Mediterranean context, Céline Dubreuil-Imbert
Gestion de la demande en eau au Maroc : place dans la politique de l'eau et retour d'expérience, Addeslam Ziyad
Water demand management: Spanish experience, Ana Nieto Arias
The Center for Mediterranean Integration (CMI) program on Water Demand Management, F. Maurel
A decision-making support guide for local authorities, Céline Dubreuil-Imbert
Economic Tools for WDM - What impact in the Mediterranean? D. Rojat
Instruments for groundwater management, R. Lavenus
Inter-sectoral water allocation, Sébastien Loubier
Improving water demand management in the Mediterranean area: Territory‐scaled information and awareness raising, Sébastien Lubert
Synthesis, Céline Dubreuil-Imbert

More information
Website of the 2nd Mediterranean Water Forum

Photos
Info : To access Participants area, please connect you in the Private Access