Second meeting of the Correspondence Group on the Economic and Social Analysis, including outcomes of the National pilot cases of the Regoko Project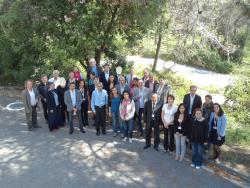 In the framework of the implementation of the Mediterranean Action Plan's "Ecosystem Approach Initiative" (EcAp), the environmental assessment of Mediterranean marine and coastal ecosystems is to be completed by a socio-economic analysis highlighting relationships between human societies and natural systems.
A Correspondence Group on Economic and Social Analysis (COR ESA Group) has been established to develop and coordinate the socio-economic assessment of water uses and coastal areas of the Mediterranean at the regional, sub-regional and national scales. Plan Bleu and the MAP Coordinating Unit are in charge of leading the Group and implementing the ESA action.
The COR ESA Group is composed of national experts designated by the Contracting Parties through the Focal Points of Plan Bleu/RAC in coordination with the MAP Focal Points.
The first meeting of the Group was held in Sophia-Antipolis on 11-12 April 2013; it was also attended by MAP Components and Partners and international experts selected for their experience in similar initiatives or for their scientific expertise.
The Second Meeting of the COR ESA Group was held in Sophia-Antipolis on 4 - 5 June 2014. To strengthen synergy needs among different scales of analysis, the meeting presented also preliminary outcomes of three National pilot cases i.e. Lebanon, Morocco and Tunisia, conducted in the framework of the Regional – Governance and Knowledge generation Project (Regoko). Funded by the GEF, the Regoko Project is intended to foster integration of environmental issues into sectoral and development policies of the beneficiary countries of the south and east of the Mediterranean basin.
The meeting objectives were:
To present the results of the ESA action at the regional Mediterranean level.
To present the outcomes of the ESA action at the national scale, through three pilot cases conducted in Lebanon, Morocco and Tunisia (Regoko)
To discuss and exchange on the experiences, methods and availability of data regarding the ESA actions presented.
To develop and promote ownership and capacity building on ESA methods and results at national level, in view of the preparation of the next EcAp steps, in particular regarding the economic and social impact of the measures to be adopted to achieve good ecological status (GES).
Info : To access Participants area, please connect you in the Private Access