Empowering the Mediterranean Community : tools for Ecosystem-based Management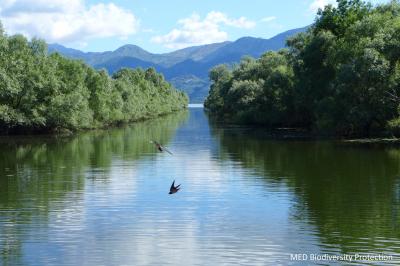 The Open seminar "Empowering the Mediterranean Community : tools for Ecosystem-based Management" was held at Hotel CenterVille in Podgorica, Montenegro, on 16-17 May 2018. It was followed by the MED Biodiversity Protection Workshop (by invitation only) on 18 May 2018.

Med Biodiversity Protection Open Seminar (16-17 May)
The Open Seminar is a step forward in showcasing practical solutions available and in sharing knowledge and tools among Biodiversity Protection Med projects and partners, and with the wider Mediterranean Community; namely other research projects, cooperation initiatives, environmental institutions and government representatives in the Mediterranean region.
Key players at local level had the opportunity to present and to learn from each other on best practices under way to protect Mediterranean ecosystems and biodiversity, with a special focus on the Adriatic region.
The Med Biodiversity Protection community featured by the PANACeA project pursues a direct dialogue with major policy and management instruments affecting our common environment.
The seminar aimed to highlight and transfer practical methodologies and tools developed by current EU and Mediterranean research, management and policy projects to stimulate a Euro-Mediterranean technical and political debate on latest strategies and tools for ecosystem-based management and biodiversity conservation.
Three panels were developed in order to address the following issues:
Regional networks and actions to foster ecosystem-based management and evidence based-policies (moderated by Ameer Abdulla, IUCN World Commission on Protected Areas).
New data, strengthened instruments for an ecosystem-based approach (moderated by Alyssa Clavreul, Plan Bleu)
Innovative tools to support sustainable resource management in the Mediterranean region (moderated by Sergi Tudela, Government of Catalonia)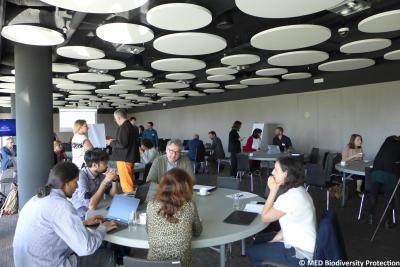 Plan Bleu was in charge of the organisation and moderation of the second panel, "New data, strengthened instruments for an ecosystem-based approach" where it was underlined that an integrated vision is needed for the implementation ecosystem-based approaches. In this purpose, a great number of tools and methodologies are under development, as well as transferable protocols which are adapted to different local conditions. In this respect, international projects such as the ones of the Biodiversity Protection community have a very important added value. Despite the efforts, the main challenges still remain harmonization, lack of data, and the use of different methods to monitor and manage habitats.
Although there is a clear wiliness to transfer the tools and methodologies outside the EU, the lack of data in those areas is still an important obstacle. MPAs are more and more considered as observatories of the state of the environment, but although monitoring of their condition is essential, it is important to recall the need for monitoring also outside these protected areas. MPAs are generally designated because of their satisfactory or remarkable environmental character, more resilient than other areas, and are therefore not representative of the rest of the Mediterranean region.
The potential of crossing data on different parameters and stressors to assess cumulative impacts and vulnerability to climate change was also raised. These assessments are key to deliver integrated and adaptive management. Geoportals and data platforms are tools to support this complex assessments, but it is however difficult and expensive to maintain and update them in the long term. Several solutions were proposed to overcome this barrier:
including the platform in a continuous series of projects to further develop it;
making the tools operational to support implementation of various policy frameworks;
developping open data platforms, meant to be updated by users for long term sustainability;
connecting the different existing plaforms;
giving the responsibility to an organisation for the maintenance of the platform after the project's life time;
involving the private sector in assuring long term viability.

Med Biodiversity Protection Community Building Event : Common tools for enhanced ecosystem management and plans of future action for the Mediterranean Biodiversity Protection Community (18 May - By invitation only)
The Community Building Event built on the results of the previous meetings held in the Mediterranean Biodiversity Protection in order to advance in two directions:
The validation of plans of action of the three Working Groups of the Med Biodiversity Protection Community, with concrete foreseen results and planning
A practical and hands-on exchange among the Med Biodiversity Protection Community focusing on concrete tools produced and tested by the projects for enhanced ecosystem management in and beyond protected areas.
Additional information on the structure of the MED Biodiversity Protection Community and its working groups is available here.
Info : To access Participants area, please connect you in the Private Access