BleuTourMed MidTerm Conference: Re-connecting tourism: Promoting evidence based policies for sustainable development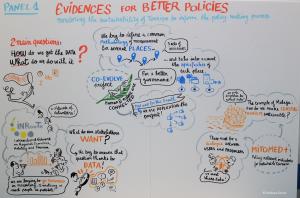 The Midterm Conference, organized by BleuTourMed project in Rome (Italy) on 29-30 May 2018, is the first capitalization event of the MED Sustainable Tourism Community. It aimed to present the state-of-play of the implementation of the projects involved in the community and to discuss the preliminary recommendation of the Med Community coming from the projects' first results.
It focused on the adequacy between monitoring processes and management practices to improve the sustainability of tourism models trying to answer to 2 main questions:
Monitoring the sustainability of tourism: what are the knowledge gaps of policy-making processes? How to bridge the data gaps on tourism?
How to manage environmental-cultural-social impacts of tourism in the Mediterranean region?
Participants interacted in moderated discussions divided in 3 main topical panels and a high level round-table, in order to influence policy makers and transferring their results through main recommendation as well as to create learning opportunities:
Panel 1 – Monitoring the sustainability of tourism: what are the knowledge gaps of policy-making processes? How to bridge the data gaps on tourism? Moderator: Josep Rodríguez, Barcelona Provincial Council.
Panel 2 – The mass « sea-sand-sun » tourism model and its related pressures in the Mediterranean region: an integrated vision of the impacts of tourism to build territorial and regional development strategies. Moderator: Nelly Bourlion, Plan Bleu
Panel 3 – From the identification to the implementation of innovative management and planning strategies to reduce the impacts of tourism in the Mediterranean region. Moderator: Andrea Di Girolamo, Adriatic Ionian Euroregion
High level round table – When is tourism really welcome? Political and economic solutions to make tourism sustainable. Moderator: Antonio Magliulo, Academic Committee of NECSTouR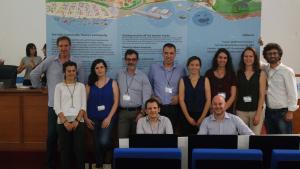 Conclusions
In a context of growing tourism sector, integrated and inclusive management and planning strategies are crucial to address tourism pressures. Although tourism sector provides opportunities for jobs, development and growth, it brings multiple negative impacts to the environment and residents.
Many projects or initiatives working on the development of sustainable tourism models are producing knowledge and data to support evidence-based decision making. However, several issues were raised. For example, what ensures the life of the data systems on the long term? how to implement open data systems in such a strategic business sector?
The way this knowledge is converted into messages and recommendations for policy making is not always efficent. Implementing a "communication and marketing strategy" can be a relevant solution for providing strong and efficient messages towards the multiple stakeholders and actors of tourism destination.
The territories and tourism destination are gathering multiple actors, with different interest and needs. Therefore, it was underlined that there is an important need for inclusiveness, for a strong cooperation between public and private sectors, and for opportunities for the different actors to meet and discuss on the management of tourism in their territories.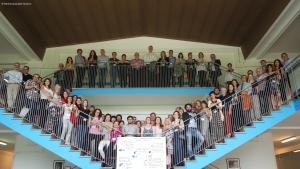 An inclusive tourism model, taking into account the local actors and the residents as suppliers is a way to allow the tourism offer to efficiently meet the demand, with a more sustainable offer.
This demand is constituted of tourists, who are often not aware of the needs for sustainable tourism models, and seeking for "extra-ordinary" and/or restful tourism experiences. It is important to take tourists expectations into consideration, and give them access to alternative and more responsible tourism offers and services. In this purpose, mobility towards smaller and less known tourism destinations, access to services and facilites, can support the diversification of the tourism offer and help managing tourism flows.
As a conclusion, the Mediterranean is making profit of a growing tourism context, with also important negative effects. In order to maintain its position, the Mediterranean area needs to implement sustainability as a common agreed concept between all actors.
Programme of the midterm conference
Info : To access Participants area, please connect you in the Private Access