Accelerating climate changes in the Mediterranean Basin cause increasing risks to people and nature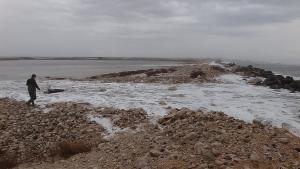 Recent climate change has stronger impacts on the Mediterranean Basin than before, causing additional concerns in an environment also affected by other problems such as land use change, pollution and declining biodiversity. This is shown in a recent study from MedECC network's experts, whose Plan Bleu hosts the secretariat from May 2018, which has just been published in the journal Nature Climate Change.
Climate change is exacerbating other environmental problems in the Mediterranean Basin, caused by land use change, pollution and declining biodiversity. Enhanced water shortages, ecosystem decline, threatened food security, health and security problems may systematically increase during the coming decades. Presenting a new synthesis in Nature Climate Change, developed with colleagues from nine countries, Wolfgang Cramer (CNRS, IMBE, Aix-en-Provence, France) says, "Annual mean temperatures in the Mediterranean Basin are now 1.4 °C above pre-industrial levels, 0.4 °C more than at the global scale. During the last 20 years, sea level has risen by 6 cm and sea water acidity has significantly increased." Even if global warming is limited to 2 °C, rainfall is likely to be reduced by 10 to 30% in some regions. This implies enhanced water shortages and risks to agricultural productivity, particularly in the South. Sea level will continue to rise at an accelerated pace and will lead to coastal flooding affecting many people. Human health will be impacted by climate change and pollution, causing infectious, cardio-vascular and respiratory diseases. In politically unstable countries, environmental change is an increasingly relevant factor for socio-economic risks, due to famines, migration and conflict. In order to better support policy makers, 400 scientists have established MedECC (Mediterranean Experts on Climate and Environmental Change), a network supported by international government agencies that aims to produce the first full assessment of risks associated with environmental change in the Mediterranean Basin.
See other articles recently published by the MedECC: http://www.medecc.org/?page_id=723
Contacts :
Wolfgang Cramer, CNRS, IMBE, Aix-en-Provence, wolfgang.cramer@imbe.fr, tel +33-6-82-04-35-95, https://www.imbe.fr/wolfgang-cramer
Joël Guiot, CNRS, CEREGE, Aix-en-Provence, guiot@cerege.fr, tel +33-6-22-91-18-44, http://www.otmed.fr/people/guiot-joel

© Photo : Photograph courtesy Sarah St.Arnaud, Tour du Valat, Arles, France