Workshop « Prospective approaches in the Mediterranean: challenges, methods and tools »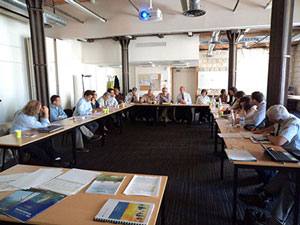 Plan Bleu organized on 25 May 2012 in CEFEB (the French Cooperation Agency training center, based in Marseille) a workshop on "Prospective approaches in the Mediterranean: challenges, methods and tools". A panel of prospective experts from various institutions has been invited to exchange views with Plan Bleu's experts.
Plan Bleu works for producing knowledge and building future visions to help national and local decision-makers in Mediterranean countries in the conception and implementation of environmental policies. In this view, it has developed and tested approaches and tools for prospective analysis, at both regional scale (scenarios) and local scale through the prospective, systemic, territorial and participative approach Imagine, implemented in Northern and Southern Mediterranean countries in the framework of Coastal Area Management Programmes.
This workshop has fed the ongoing reflections at Plan Bleu about the approaches and tools for prospective analyses, in view of its upcoming activities on various territories, sectors and issues: integrated management of coastal areas, adaptation of coastal areas to climate change impacts, forest management in the context of global change, marine ecosystem management.
The objectives of the workshop were to share concrete experiences of prospective work, at various scales, as well as related methods and tools, to identify their strengths and limits, and to open up pathways for adapting and improving prospective approaches implemented by Plan Bleu.
Download the agenda and the presentations:
Programme
La prospective: un outil au service de la stratégie de l'Ifremer : applications en Méditerranée. Denis Lacroix, Ifremer
La géoprospective : une nouvelle démarche de prospective territoriale. Christine Voiron, Université de Nice/CNRS
La fonction prospective au sein du ministère chargé de l'agriculture : organisation, enjeux et méthodologie. Julien Vert, MAAPRAT, Centre d'études et de prospective
Info : To access Participants area, please connect you in the Private Access